Konnichiwa! If you're planning a trip to Japan and have the iconic Shinkansen on your itinerary, it's essential to be well-versed in the shinkansen luggage limit and guidelines which changed on May 24, 2023. In this article, I'll walk you through the nitty-gritty details of luggage restrictions and provide tips on how to ensure a smooth and safe journey on the train.
Affiliate Disclaimer: I only recommend products I would use myself and all opinions expressed here are our own. This post may contain affiliate links that at no additional cost to you, I may earn a small commission. As an Amazon Associate I earn from qualifying purchases.
Understanding the Shinkansen Luggage Limit
Ah, the shinkansen luggage limit! It's crucial to acquaint yourself with this aspect to avoid any surprises while boarding. Each passenger is generally allowed to carry up to two pieces of luggage, along with one personal item like a handbag or laptop bag. However, it's important to note that the size and weight restrictions may vary slightly depending on the specific train line. The info below applies to both ordinary car and green car seats (learn the difference between these classes of service here).
To ensure a hassle-free experience, it's recommended to adhere to the dimensional and weight limitations imposed by the shinkansen. While the specific measurements may vary slightly, it's generally advised to keep your luggage within the following parameters:
Dimensions:
Up to a total linear length of 160cm (length + width + height): No restrictions
From 160cm to 250cm linear length (length + width + height): As of May 24, 2023, passengers must reserve in advance a seat with an oversized baggage area or an oversized baggage compartment at no extra charge. Note that passengers without a reservation will be charged a 1000 yen fee.
Over 250cm linear length (length + width + height): Not allowed
For reference, 250cm is about 98 inches which is roughly the size of a standard check-in bag for an international flight. The odds are if you were able to check your bag on a flight, it will fit within the Shinkansen limitations.
Also note that some items with odd dimensions such as bicycles, strollers, musical instruments, or sports equipment are allowed and do not require a reservation.
Weight:
The weight limit for each piece of luggage is usually around 30 kilograms (approximately 66 pounds). Keep in mind that this includes both checked and carry-on bags. Be mindful not to exceed this limit to ensure a smooth boarding process.
Making Reservations
You can make a reservation online or by using the reserved seat ticket vending machines at the station. Be sure to select "Seat with an oversized baggage area." When using a JAPAN RAIL PASS at ticket office, inform a staff member that you would like to reserve a seat with an oversized baggage area.
Storing Your Luggage on the Shinkansen
Once you're ready to hop aboard the magnificent Shinkansen, it's time to find the perfect spot for your luggage. Most shinkansen trains offer designated overhead racks for standard luggage. The overhead racks, located above your seat, are ideal for storing smaller bags and personal items. Ensure your bags fit comfortably within the size restrictions mentioned earlier. This convenient storage option allows you to keep your essentials within easy reach throughout the journey. The overhead area will store normal full sized luggage as shown below (Rimowa Essential Check-In Large).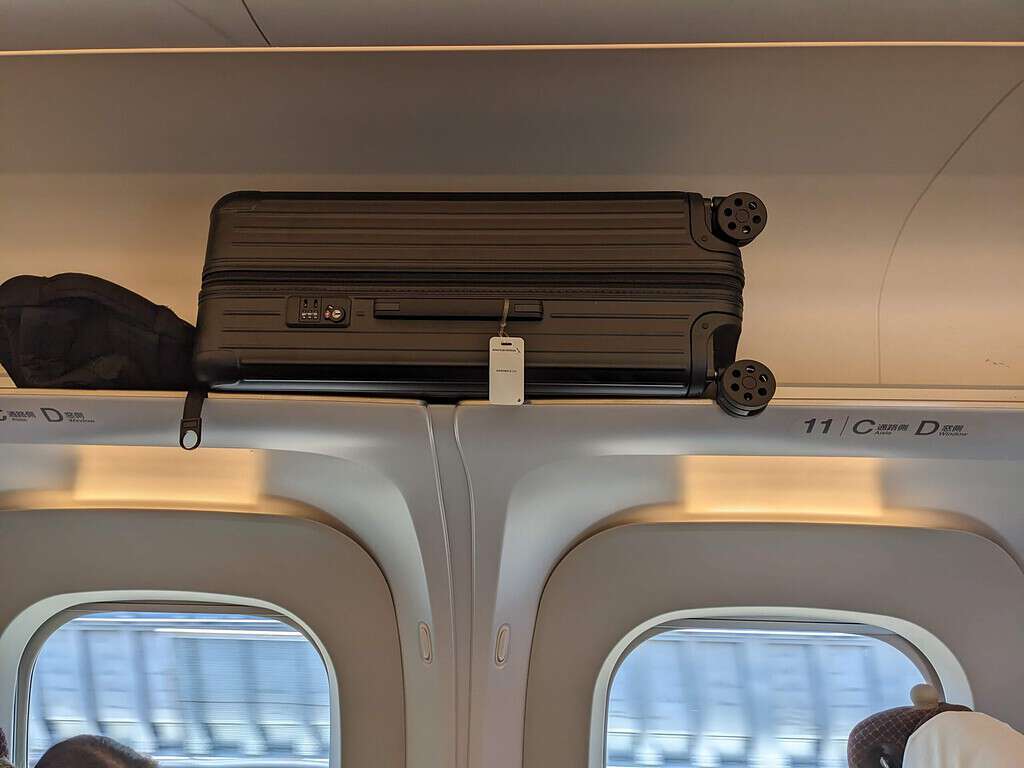 For oversized luggage, a reservation is required for either the oversized baggage compartment near the train car entrances, or the oversized luggage area behind the last row of seats in the train car. If you reserved a seat with an oversized baggage area, the baggage will be stowed behind your seat. So, if you prefer to have your luggage nearby, reserve an oversized baggage area seat. The space for the oversized baggage is shared by the five passengers who reserved the five back row seats with an oversized baggage area.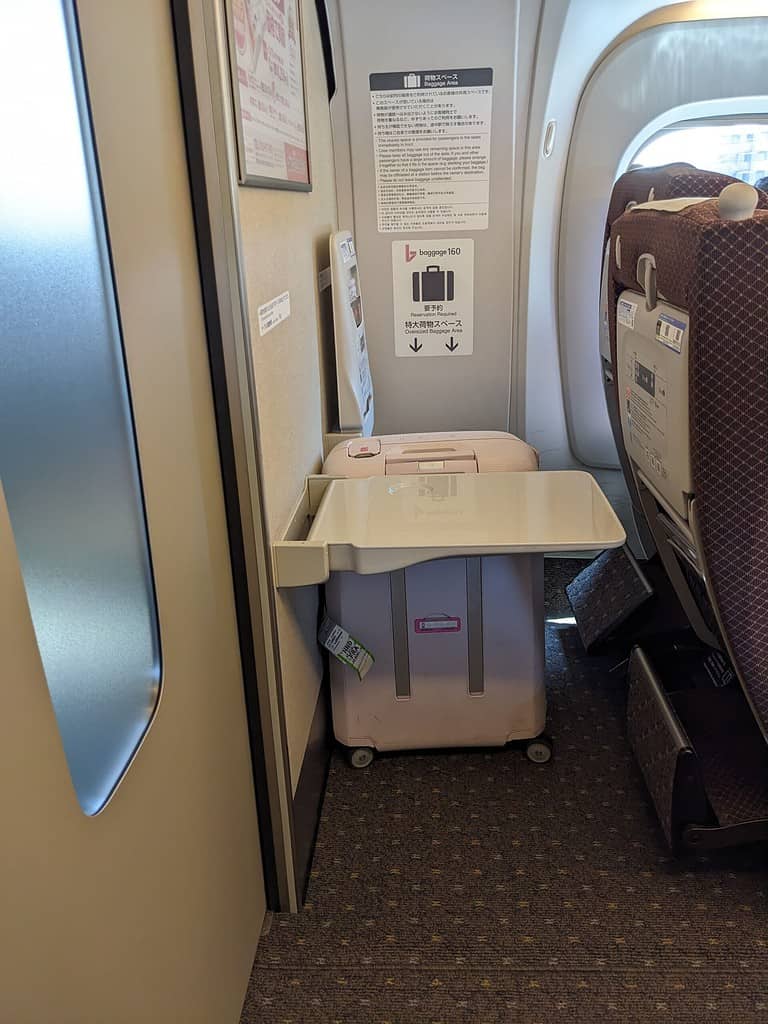 Otherwise, with an oversized baggage compartment seat will be a short walk from your luggage.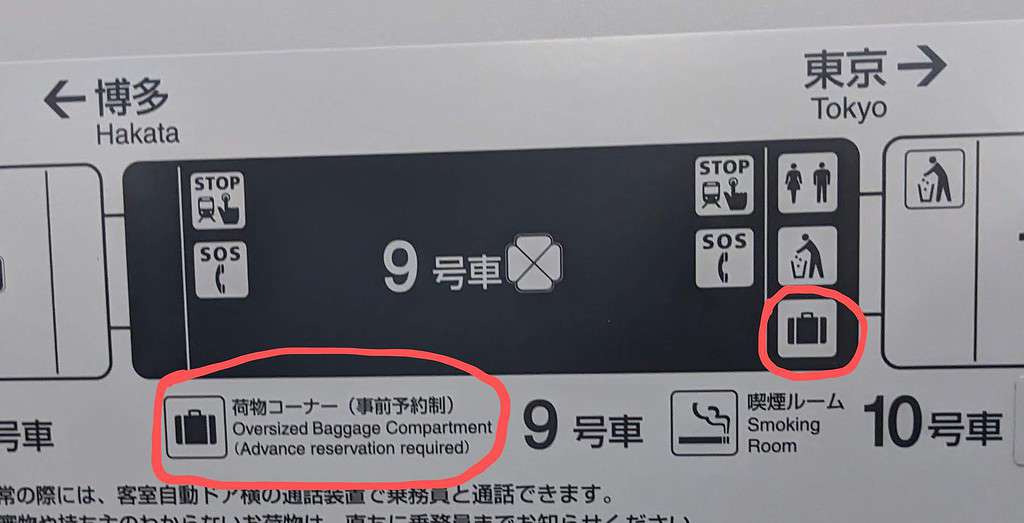 Note that the maximum luggage dimensions for the compartment are 80 x 60 x 50 cm for the upper rack and 80 x 60 x 40 cm for the lower rack.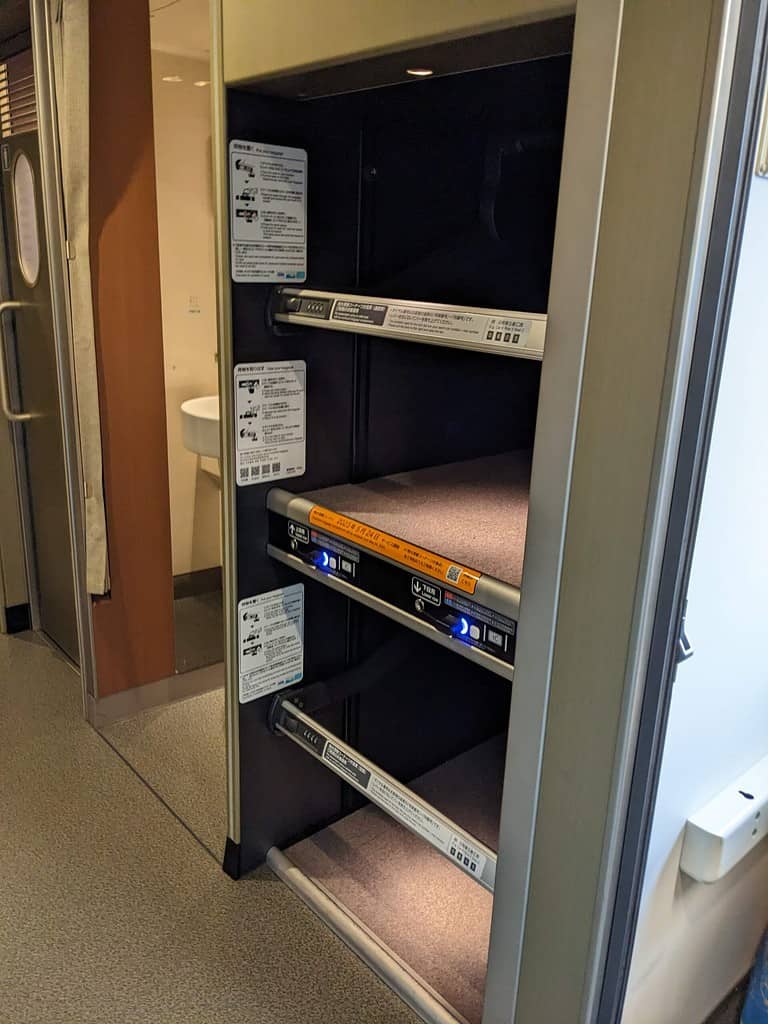 The oversized baggage compartment will have locks available to use, so you won't have to worry about your luggage being stolen. Watch the following video to become familiar with the oversized baggage compartment.
Safety Measures on the Shinkansen
When it comes to keeping your luggage safe during the shinkansen journey, a few precautions go a long way. In general, Japan is extremely safe, however if you don't want to take any chances that could cause a setback to your unforgettable trip to Japan, consider these safety measures:
Locks in the Luggage Area: Most shinkansen trains provide locks in the luggage storage areas. These locks offer an additional layer of security for your belongings. It's generally recommended to use these provided locks to ensure the safety of your luggage throughout the trip. However, it's always a good idea to carry your own travel-friendly padlock or combination lock for added peace of mind. You will need to set a combo and also use your IC card to lock and unlock your luggage, so be sure to allow time to perform these steps so you don't miss your stop!
Packing Essentials and Valuables: Ensure your valuables and important documents are securely packed in your carry-on or personal bag. Keep them within easy reach throughout the journey, such as in a small daypack or handbag. This way, you can keep an eye on your belongings without any inconvenience.
Additional Tips for a Smooth Journey
Arrive Prepared: To avoid any last-minute rush or stress, make sure to arrive at the station with ample time before departure. This will give you the opportunity to locate your platform, find your seats, and settle your luggage comfortably without any unnecessary haste.
Efficient Packing: Given the dimensional and weight limitations, it's wise to pack smartly. Opt for lightweight and compact luggage options such as rolling suitcases or backpacks to maximize the available space. Remember, a minimalist approach to packing often leads to a more convenient travel experience!
Secure Your Bags: While the shinkansen trains provide locks in the luggage storage areas, it's always a good idea to carry your own travel-friendly locks. This gives you an extra layer of security and peace of mind, particularly when your bags are out of sight during the journey.
Keep Important Items with You: When it comes to valuable possessions like passports, wallets, phones, and other personal items, it's best to keep them within easy reach. Store them in your personal bag or daypack and ensure it remains with you throughout the trip. This way, you can easily keep an eye on your belongings and access them whenever needed.
Be Mindful of Others: Show consideration for your fellow travelers by being mindful of your luggage. Avoid blocking aisles or leaving your bags unattended, especially in high-traffic areas. By being courteous and aware of your surroundings, you contribute to a pleasant journey for everyone on board.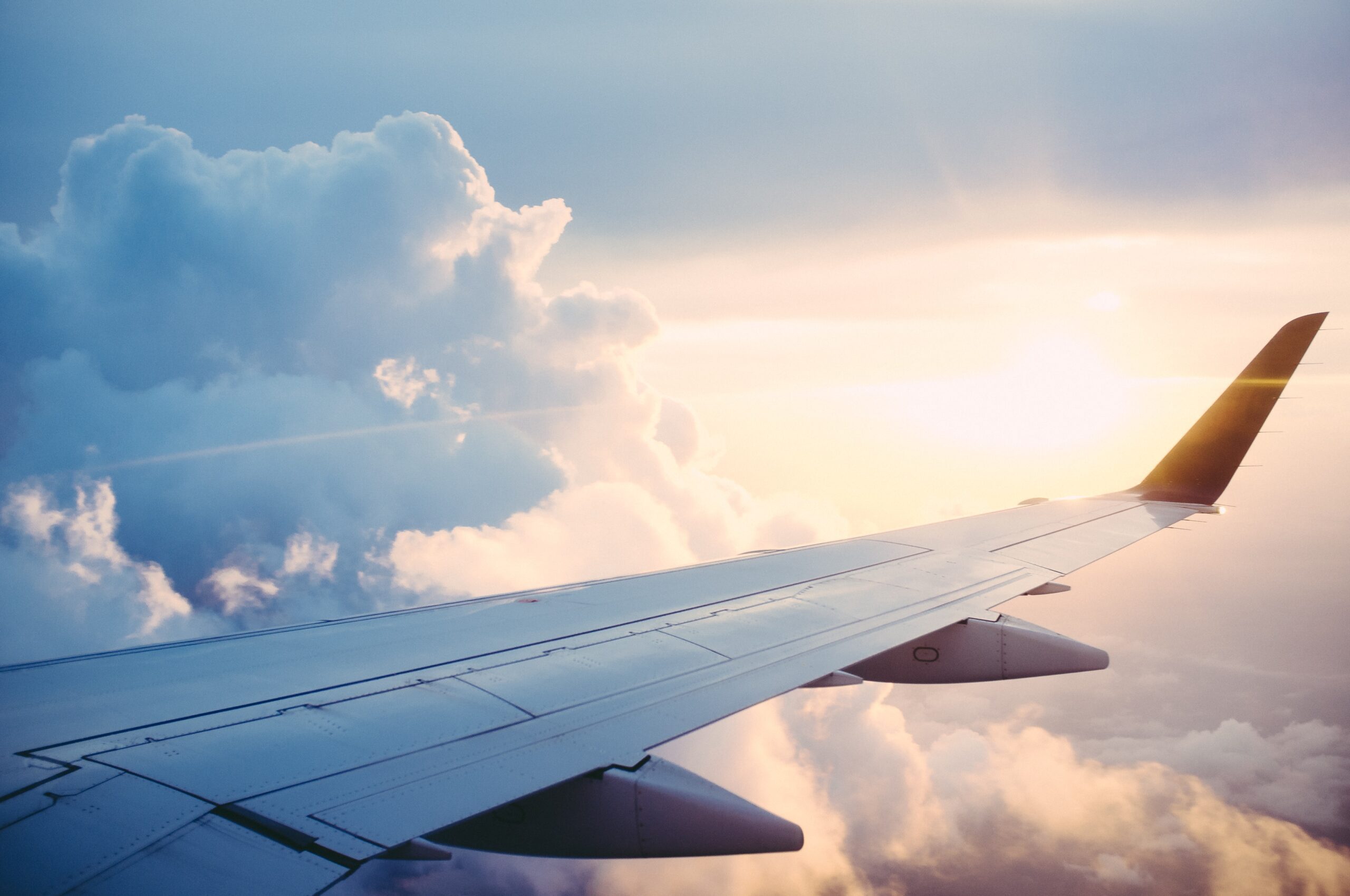 Final Thoughts
As you embark on your journey aboard the incredible Shinkansen, it's important to be familiar with the shinkansen luggage limit and guidelines. Adhering to the dimensional and weight restrictions ensures a smooth boarding process, while utilizing the available storage areas and locks keeps your belongings safe and secure. By following these tips, you'll be able to make the most of your shinkansen adventure, allowing you to travel with ease and style. So, buckle up and get ready to enjoy the marvels of Japan's high-speed train network!
Other FAQs for Using the Shinkansen in Japan
How fast does the Shinkansen travel?
The Shinkansen trains can reach speeds of up to 320 km/h (200 mph) on some routes, making them one of the fastest trains in the world.
How do I purchase Shinkansen tickets?
You can purchase Shinkansen tickets at ticket counters in major train stations or use ticket vending machines. Alternatively, you can book tickets online through various websites and apps. It is recommended to book reserved seats in advance, especially during peak travel seasons.
What types of Shinkansen seats are available?
There are two main types of seats on the Shinkansen: reserved and non-reserved. Reserved seats guarantee you a specific seat on a particular train, while non-reserved seats allow you to board any unreserved car on a specific train.
Can I use my Japan Rail Pass on the Shinkansen?
Yes, if you have a Japan Rail Pass (JR Pass), you can use it to board most Shinkansen trains without paying an additional fare. However, you need to obtain a seat reservation at a ticket counter before boarding.
How do I board the Shinkansen?
Arrive at the station a little early to find your platform and train departure time. If you have a reserved ticket, look for your car number on the platform. If you have a non-reserved ticket, simply wait in the non-reserved section of the platform. The Shinkansen usually arrives and departs on time, so be prompt.
Can I eat or drink on the Shinkansen?
Yes, you can eat and drink on the Shinkansen. There is a food and drink trolley service available on most trains, offering a variety of snacks, bento boxes, and beverages. Additionally, some Shinkansen stations have "Ekiben" (station bento) shops where you can purchase local delicacies to enjoy during your journey.
Are there facilities for travelers with special needs?
Most Shinkansen trains are equipped with facilities for travelers with disabilities. These include accessible restrooms, priority seating for those with mobility issues, and space for wheelchairs. Additionally, station staff is usually available to assist travelers with special needs.